Welcome to Camp
When you arrive at main camp and climb out of the air taxi, we'll be proud to offer you a sincere "welcome to camp" handshake. You're our guest and we're glad to see you. Come on down the trail to the cook tent and make yourself comfortable. There's usually some hot coffee and snacks available. Relax and take a few minutes to check the zero on your scope before you head out to your spike camp.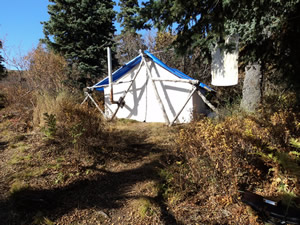 We use several different form of remote hunting camps, depending on what species we're hunting, time of year (spring or fall), and what specific part of our area we're hunting. At our main camp we have a fully-equipped cook tent with a table for 8, full time cook, big wall tents for hunters who choose to hunt from main camp and a hot shower. Each wall tent has its own wood burning stove, plenty of firewood, lots of matches, a cot with thick foam mattress, and propane lantern.
Your spike camp has a large tent with floor, sleeping cots with mats, 2-burner propane Coleman stove, Coleman propane lantern, table, and basic camp gear along with more food than you can eat.
One thing that remains consistent with all of our camps is our commitment to having good, reliable equipment in each camp. All of our camps are outfitted with new or nearly new equipment, including: tents, comfortable cots, propane cook stoves and lanterns, etc. We buy new equipment every year and sell the "old" equipment that has been used on 1-2 hunts, equipment that we used 3 weeks.
We are serious about hunting for trophy animals and take a lot of pride in providing clean, well organized and comfortable camps.
Camp Food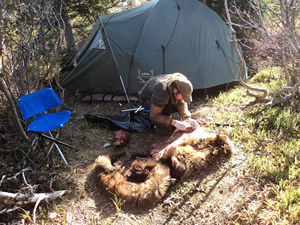 Think you'll be hungry after hunting hard all day? Come on back to your spike camp for some hot food and cold beer! Just kidding!
But you will eat well. Alaskan size portions of chicken & pork chops (or loins) from main camp, potatoes, onions, sandwich meats, cheeses, bread, assorted Mountain House meals, plenty of snacks and lots of coffee & hot chocolate mix. No, my friend, you won't go hungry even in a remote spike camp!
westwindnayco@gci.net